Image Description: Black-and-white engraving depicting, above, Simon of Trent, whose disappearance and murder led to charges of blood libel against the Jewish community of Trent; below, an image of a Judensau (Jews' sow ). Anno 1475 am Grünen Donnerstag war das Kindlein Simeon 2 Jahr alt als es von den Juden ist umgebracht worden ("In 1475 on Maundy Thursday, the child Simon, who was 2 years old, was murdered by the Jews.") [source below]
An Honest Assessment of the Destruction of the American Empire from the Inside
Anyone over the age of 35 remembers a very different world than the one that exists today. Education, politics, and social norms in general have become unrecognizable from what they were just 20 years ago.  Freedom of speech was a thing and politics did not mirror a three-ring circus. People were able to think critically and analyze situations for themselves instead of just ingesting a narrative and regurgitating it. But now things have changed. The change can be attributed to two major factors: 1) Underestimated Power of Media; and 2) Underestimated Cost of Pride.
The average person no longer knows how to think for themselves. They have become accustomed to receiving "their opinion" from repetitive, synchronized media programming without realizing it– like automatons. Consequently, whoever controls the media controls the masses and forms public opinion.
Media reflects opinions of those who control government. Watch above 47-second clip (5:21 to 6:08).
Though modern Americans may have a hard time seeing who is controlling their country behind the scenes, the rest of the world can see clearly.
Before about 2010, it was both commonly known and openly talked about that Jews control Hollywood, the music industry, sports, banking, politics, and the media. And before "cancel culture", adults were able to speak freely about this–it was not considered top-secret. Up until around 2015 there were thousands of news articles, social media posts, YouTube videos etc. about the hidden hand that ruled the world and almost always traced back to the Jewish Community. But then a shift happened: mainstream media introduced the AntiSemitism Hoax. Then there was a gigantic yet subtle internet scrub that took place as a part of the Jewish AntiSemitism Conspiracy (JAC).
The introduction of the AntiSemitism Hoax to be used as grounds for eliciting pity from the world to justify special treatment of the Jewish Community, manipulate public opinion against anyone who does not worship the Jews, and force compliance with the Jewish agenda for self-advancement and prosperity at the expense of all others.
Information about Jewish power and influence was removed from every major social media platform and blasted in the media as "Antisemitism".
All of a sudden, anything that stops short of Jews are perfect, never do anything wrong, are always right, and are ALWAYS victims has been adjudged  conspiracy in the court of public opinion. And anyone who dares to challenge that verdict is publicly humiliated, slandered, de-platformed from social media and ominously labeled "antisemitic". These tactics are reminiscent of the mob: do what we say, think how we tell you to, and remember to pay tribute or else you will be sorry — this is straight out of a mafia playbook! Yet they are the methods that Israelis and other Jews are using to push the Jewish Hate Movement (JHM) via an unimaginably extensive network of Jewish Hate Organizations (JHOs).
A clandestine, concerted effort by Jewish Hate Organizations (JHOs) together with influencers within Israeli and American government that uses hateful defamation as its primary war strategy against dissenters from the Jewish agenda. The JHM has been quite effective because it allows the Jewish Community to attack critical thinkers without its victims being able to defend themselves or counterattack– by lunging false accusations of "antisemitism" to force acquiescence.
Jewish-run network of actors that disseminate policies of the Jewish Hate Movement (JHM) throughout America and the world. This includes non- Governmental Organizations (NGOs), Inter-Governmental Organizations (IGOs), domestic non-profits and for-profits, such as:
Anti-Defamation League (ADL)

Southern Poverty Law Center (SPLC)

CanaryMission.org

International Holocaust Remembrance Alliance (IHRA)

American Israel Public Affairs Committee (AIPAC)
 Jewish Community bullies, intimidates, harasses, and threatens dissenters from their narrative and agenda.
While the Jewish Hate Movement (JHM) is unquestionably unlawful, funding from the Jewish banking and finance industry together with Jewish-led media propaganda as well as protection from high-ranking Jews in U.S. government has made it impossible to hold this International Jewish Crime Syndicate (IJCS) accountable. This IJCS is synonymous with the Synagogue of Satan.
High-ranking Jews within the U.S. Government responsible for directing and enabling the Jewish Hate Movement (JHM) include– but are by no means limited to:
Ronald Klain (Chief of Staff)

Anthony Blinken (Secretary of State)

Janet Yellen (Secretary of Treasury)

Merrick Garland (Attorney General)

Alejandro Mayorkas (Secretary of

Homeland Security)

Avril Haines (Director of National

Intelligence)
• Wendy Sherman (Deputy Secretary of State)
• Eric Lander (Science and Technology Adviser)
• Ann Neuberger (Deputy National Security Adviser)
• David Cohen (Deputy CIA Director) • Doug Emhoff (Husband of Kamala
Harris)
A secular designation and description of the manifestation of the Synagogue of Satan in modern times. It includes:
High-ranking Jews in Western government
Jewish Hate Organizations (JHOs)
Jewish-run media outlets and public broadcasters
Jewish-owned banking and financial sector
A Biblical term that describes the International Jewish Crime Syndicate (IJCS) that would come about in these End Times:
"I know thy works, and tribulation, and poverty, (but thou art rich) and I know the blasphemy of them which say they are Jews, and are not, but are the synagogue of Satan."(REVELATIONS 2:9)
"Behold, I will make them of the synagogue of Satan, which say they are Jews, and are not, but do lie; behold, I will make them to come and worship before thy feet, and to know that I have loved thee." (REVELATIONS 3:9)
Synagogue of Satan so powerful that the Federal Bureau of Investigation (FBI) apologizes for offending them with history
The Protocols of Learned Elders of Zion are a factual document in the possession of the FBI that outlines the International Jewish Crime Syndicate's (IJCS) plan to do exactly what they have now accomplished: cage Humanity in an intangible, invisible spiritual prison from which they are unable to escape. This is what all of the technological advancements have been about.
For those who think the absence of physical shackles equates to freedom, they need only observe the definitive, immediate, harsh consequences suffered by Kanye "Ye" West and Kyrie Irving at the end of 2022. These men were publicly humiliated– on an international scale–politically, socially, and economically castrated by the Synagogue of Satan. They were ostracized and segregated out from the general inmate population, placed on "lock-down" until they got back in line and could be released onto the prison compound with everyone else.
The "All-Seeing Eye" on the American $1 Federal Reserve Note (i.e. "dollar bill", though not actually) is technology. It is the eye of Lucifer who is Satan which he uses to spy on all aspects of daily life. And the pyramid represents bondage because, everyone is enslaved by the system. At this point, there is  nowhere that one can physically go to hide from the Eye of Satan or to escape the system implemented by his children.
An historically factual outline created by the Synagogue of Satan (e.g. the Devil's children) that openly boasts of their plan to dominate and control the world from America. The Jewish Hate Movement (JHM) has attempted to discredit this official U.S. Government document by labelling it an "antisemitic" hoax or conspiracy. But the proof of its truthfulness is the fact that it has 100% come to past exactly as it was written decades ago.
The Eye of Satan which is the inescapable technology the Devil uses to spy on and control the world.
Technology is the "All-Seeing Eye" on the back of the U.S. One Dollar Note. It is the "The Great Seal"
of the United States

, not the United States of America.
The Synagogue of Satan instituted the Jewish AntiSemitism Conspiracy (JAC) to guilt White America and pressure them into giving up ownership and control of the country. For all intents and purposes, the Jewish People have already replaced the American People. Left-wing politicians have been working hard to confiscate guns before Americans woke up and realized what has happened.
World Jewish Congress (WJC) mocks the American People making videos bragging about replacing them using the Jewish AntiSemitism Conspiracy.
NOTICE TO AMERICAN PEOPLE: The Nation of Israel is peace-loving and encourages you to find peaceful means of addressing this matter of unforgivable betrayal by traitorous Jews that have unlawfully stolen your country.
Media propaganda has framed a false perception of America's potential for longevity. Because focus has been on material wealth and military might, the Synagogue of Satan was able to execute their plan without much resistance working behind the scenes executing anti-American legislation and policies. Distracting the masses with theatrical political spectacles and looming speculations about the U.S. economy–all of which is controlled by the International Jewish Crime Syndicate (IJCS)– the Devil's children were steadily chipping away at Freedom.
America's collapse not readily apparent, but has happened. Watch above 29-second clip (3:56 to 4:25).
Americans arrogantly boast of their invincibility not realizing the Synagogue of Satan has already collapsed their empire behind their backs. 
[Dear World:]
"We Jews have put issue upon issue to the American people. Then we promote both sides of the issue as confusion reigns. With their eyes fixed on the issues, they fail to see who is behind every scene. We Jews toy with the American public as a cat toys with a mouse."
[With hate, Synagogue of Satan]
Weisman, Charles A., White, Walter., Rosenthal, Harold W. The Hidden Tyranny: The Issue that Dwarfs All Other Issues, p. 2; (also known as "the Rosenthal Document"). United States: C.A. Weisman, 1992
History itself should have been enough for Americans to understand the repercussions of dealing with the Devil. Jews have a centuries-long reputation for poisoning Christian society and trying to undermine the governments of Europe. This is the reason they have been expelled more times and from more places than any other people in the history of the world.
They were also responsible for the most deadly catastrophe ever perpetrated upon Europeans: The Bubonic Plague known as "The Back Death" of the Middle Ages.
Synagogue of Satan murdered an estimated 75-200 million people c. 1347 A.D.-1351 A.D. by poisoning the Christian food and water supply.
Unfortunately, ritual  murder, cannibalism, and other heinous crime forms a large part of Jews' past and present. Israelis have been caught organ trafficking on numerous occasions– to which they have readily admitted– and the State of Israel is said to be the epicenter for human trafficking in general. This was all once common knowledge. But Jews used their "go-to" propaganda machine and their cliché false, fallacious accusation of antisemitism to scrub their extensive criminal record.
RT reports about State of Israel's admission to illegal organ harvesting.
CNN reporter speaks with Haiti Prime Minister who confirms both human and organ trafficking in Haiti by Israelis who arrived under the guise of providing "humanitarian aid".
TYT reports on confirmed illegal Israeli organ harvesting.
Blood Libel, human sacrifice, and related traditionally Jewish practices can be traced back through the Middle Ages to antiquity. Human murder and torture are integral parts of Judaism with volumes of manuals on each topic.
Schramm, Hellmut. "Jewish Ritual-Murder: A Historical Investigation," p. 43; Translated by Regina Belser. Aaargh Publishing House, 2007. [Der jüdische Ritualmord: Eine historische Untersuchung]
[Quote concerning ritual murder of toddler Simon of Trent in 15th-century Europe]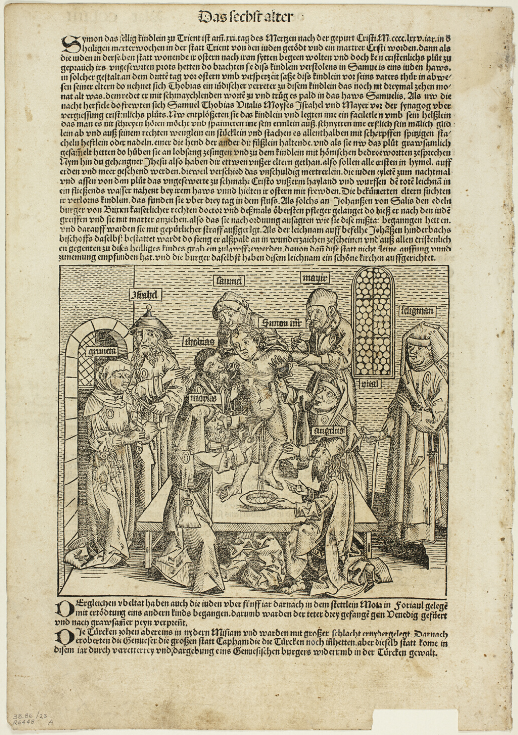 Jewish Crime Against Humanity was extensively reported on in the past and is a verifiable FACT of the past and present though carefully hidden.
All of the above articles were accessed and available as of April 5, 2023. It is possible that the Synagogue of Satan will soon be keeping with their tradition of scrubbing the articles to conceal the truth of their nature from public view.
In addition to hiding the Jewish Community's atrocious Crime Against Humanity, the propaganda specialists also conceal the fact that their own people are responsible for much of what they try to paint as antisemitism. But that truth does not help elicit the sympathy needed to take advantage of "White Guilt". Though it may appear to still be standing, America is finished– the legal and social structure have been irreversibly compromised–and the American People have the Jewish Community to thank for it.
Weisman, Charles A., White, Walter., Rosenthal, Harold W. The Hidden Tyranny: The Issue that Dwarfs All Other Issues, p. 43; (also known as "the Rosenthal Document"). United States: C.A. Weisman, 1992.
The Synagogue of Satan consists of blasphemous, remorseless, irreverent less-than-beasts issued  from the Devil who have once again come into a country not their own to take over and subvert it for their own interests. Anyone incapable of seeing the obvious–Jews are NOT God's Chosen People–may just be clinically insane. Ironically, science has found that Jews are biologically prone to mental illness and have polluted genes. Scientists say they have injected all of society with mental illness of epidemic proportions–from which America will not recover.
Experts: Psychopathy is inherent to the Jewish Community which has a "compulsive desire for persecution". 
Main Image Source: William A. Rosenthall Judaica Collection - Prints and Photographs; PID lcdl:65765, Shelving Locator: Print Portfolio 22,cofc-war-print22-001. College of Charleston Libraries. https://lcdl.library.cofc.edu/lcdl/catalog/lcdl:65765 (Accessed April 2, 2023).