Image Description: Original work by Lord of the Earth, titled "Jewish Hate" as a reminder of the importance to #StandUpToJewishHate for Humanity. Photos extracted from authentic Jewish manuscripts blatantly revealing the "god" worshipped by the Synagogue of Satan is the Devil [source below]
The Love of Money is the Root of All Evil; Follow after Righteousness, Godliness, Faith, Love, Patience, Meekness
Synagogue of Satan, through witchcraft, created an artificial reality for transhumanized beings to spend eternity. Away from God.
There is no power in money. Its perceived value is in what it represents: currency. 
The life of a man's flesh is in his blood (Leviticus 17:11), which must freely and continually flow or his body will die. Likewise, the life of his soul is in his spirit, which must be in constant communion with The Almighty or he will die. The underlying theme here, then, is maintaining a flow: currency. 
Money represents spiritual currency but is not that currency. It is paper, numbers on computers, or sometimes even precious metals and the like. In every instance, its value begins and ends with the material world. But spiritual currency– true wealth– begins and ends with ALMIGHTY God. Satan plans to put an end to this.
God made Adam in His image and commanded the heavenly host to serve him. Lucifer rebelled proclaiming seniority and superiority to Man. Consumed with envy and blinded by pride, Lucifer became Satan. And vowed revenge upon God by annihilating His creation.
He became the progenitor of the Serpent Seed and infiltrated Humanity via Cain to perform a hostile takeover.
Through his children, Satan has deceived Humanity into selling itself using the allure of worldly riches. Having crossed the threshold of the point of no return, there is nothing that Mankind can do to save itself. Thus, Satan's Synagogue is now blunt about their sinister plan.
Under guidance of malevolent cosmic forces– spiritual wickedness in high places (Ephesians 6:12)— the Synagogue of Satan achieved the ability to defy the laws of the Earth realm, and traverse the time-space continuum to hack into parallel universes. They needed to put finishing touches on their Virtual Hell–to prevent the possibility of escape.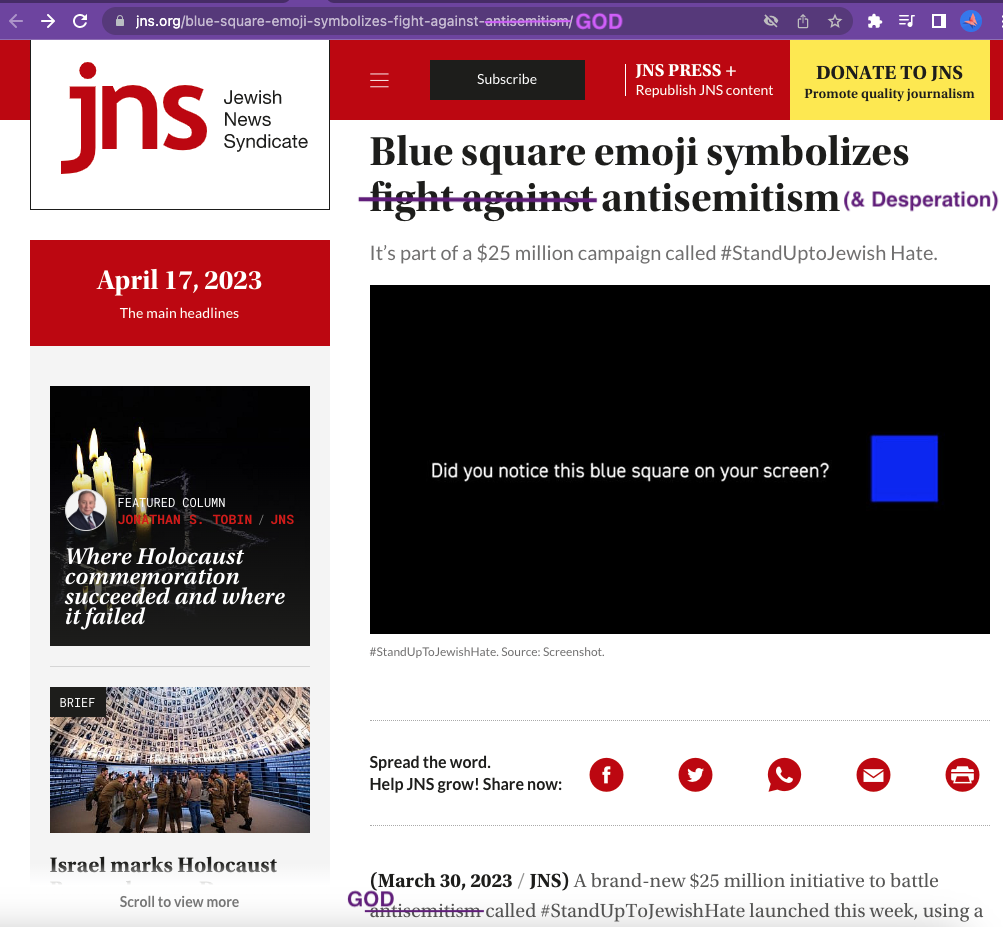 Additionally, they mapped out the human genome to hack the genetic code, which they pirated, altered (through introduction of foreign substances), and patented. 
A common tactic of the Devil is to appear to reveal his hand; meaning, he will tell you what he is going to do but mislead you about what it will look like. That way, he can prepare the mind to accept it, as well as accomplish his goals without resistance. In other words, androids with "artificial intelligence" just look like regular human beings–and there are many of them already here on Earth. 
Because they possess an inter-dimensional, super-human intelligence, androids can openly discuss diabolical matters in front of humans, without them comprehending.
International Jewish Crime Syndicate (IJCS) accomplished world domination through love of money
Only the uninformed masses are waiting for a future that is already here. World domination was achieved long time ago–perfected in the previous generation and solidified in the current one. But the illusion of choice and inability to think critically prevent most from seeing this. The only thing left is to finish reducing Mankind into less-than-human, artificial, DIGITAL beings that can be deleted from the Virtual Hell with the press of a button. 
Stage 1: Oppression
Stage 2: Bondage
Stage 3: Slavery
Stage 4: Annihilation
Stage 1: Oppression
Money Leads to Poverty then to Oppression.
---
Money is the root of all evil because in its pursuit, man is willing to depart from godliness and what he knows to be right to obtain what he perceives as wealth. He fixates his soul– mind, will, and emotions– on material substance, thereby forfeiting the infinite for the finite. He has chosen poverty instead of wealth.
---
Stage 2: Bondage
Stage 3: Slavery
Stage 4: Annihilation
Children of God will NOT be Intimidated by Satan's Spawns
The Synagogue of Satan goes to great lengths to disguise themselves by slandering and attacking all opposition– especially the People they are falsely personating, prophesied to defeat them: Israelites. Particularly, this is why Jewish Hate Organizations (JHOs)– all of whom form part of the International Jewish Crime Syndicate (IJCS)–such as CanaryMission.org unlawfully target and harass Israel United In Christ (I.U.I.C.)
Turkish Police Seize Ancient Satanic Jewish Religious Manuscript (Approx. 2,000 Years Old)
Video: Smugglers found in possession of Judaic religious text with baphomet and other satanic imagery.
Serpentine "wisdom" of Judaism & Ancient Egypt
Video: كتاب باللغة العبرية تاريخي للبيع ("Historical Hebrew book for sale"). Judaism represented in its true form as Luciferian, paganistic wickedness.
Historic Text Reveals Judaism as Fount of Mystery Religion
Video: كتاب يهودي ماسوني مكتوب من الذهب ("A Jewish Masonic book written in gold"). Ancient books reveals true wickedness of Judaism. Contain ouroboros, hexagram (6-pointed Jewish star), and devilish themes of Satan's Synagogue.
Jews' god Satan represented as Baphomet in Jewish "holy" Book
Video: -كتاب قديم بالكتابة العبرية ("Old book in Hebrew script"). Religious book with Jews' 6-pointed star, baphomet and other occult Jewish items.
Evil Judaic Scroll Showing Various Demonic Jewish Entities
Video: ظهور مخطوطة العزيف لأول مرة في العالم| الحقيقة المزيفة😮 ("Al-Azif manuscript appears for the first time in the world|The 'Fake' 😮 Truth"). Video shows demonic Jewish scroll with Jewish 6-pointed star, for summoning various demonic entities.
Disgusting Occult Book Shows False gods of Judaism
Video: كتاب قديم مجهول.😱😱😱😱😱مخيييييف ("An old anonymous book. 😱😱😱😱😱Mkhiyev"). Jews' false gods and demonic practices revealed.
Jewish Religious Book with Horned Devil and Wicked Symbols Throughout
Video: fكتاب يهودي قديم للبيع ("Old Jewish book for sale"). Demon face with Jewish hexagram (6-pointed star) on forehead at 2:19.
Spiritual wickedness in High Places: Satanic Cosmic Forces of Judaism
Video: كتب يهودية قديمة موجودة في سوريا ("Old Jewish books found in Syria"). Video shows devilish Jewish book with Jewish 6-pointed star for summoning various extra-planetary demonic entities.
Power of ALMIGHTY God will ANNIHILATE the Synagogue of Satan
There is nowhere for the enemies of God to hide. No amount of money, witchcraft, or poorly-planned smear campaigns can save the Serpent Seed from their impending doom. The Nation of Israel vows to #StandUpToJewishHate until Satan and his children are utterly destroyed.
Main Image Source: Compilation photos and videos from antiquated Jewish religious manuscript estimated to be 2,000 years old, owned by the Synagogue of Satan but fell into the hands of a non-member.