Image Description: Christ enthroned and the seven angels with trumpets; below, an angel with a censer identified in an inscription: 'ubi aperuit angelus turabulum et misit eum in terra et facte sunt fulgura' (Revelation 8:2-5). Beatus of Liébana, Commentary on the Apocalypse (The "Silos Apocalypse"), f 126r.  [source below]
God is not mocked; whatsoever a man soweth that shall he also reap
The Nation of Israel commends every legitimate patriot– professing Christians and defenders of the true gospel of Christ– who pledge their allegiance not to man, but to the God of the Bible. Unfortunately, not every white American is a patriot. Countless are merely deranged, self-righteous, self-deluded, racist, hateful violent extremists with superiority complexes–too many of whom can be found in politics. With that being said, meet John Thomas "Trey" Lamar: a covertly bigoted, xenophobic, militant white nationalist.
Lamar recently sponsored a "bill" (HB 1020) in the Legislature of Mississippi to create an exacerbated political prison for blacks overseen by a white kouncil of kualified klansmen– a sort of "KKK 2.0". He and his like-minded counterparts had hoped to disrobe themselves and frolic about in the open.
From here, there is good news and Bad News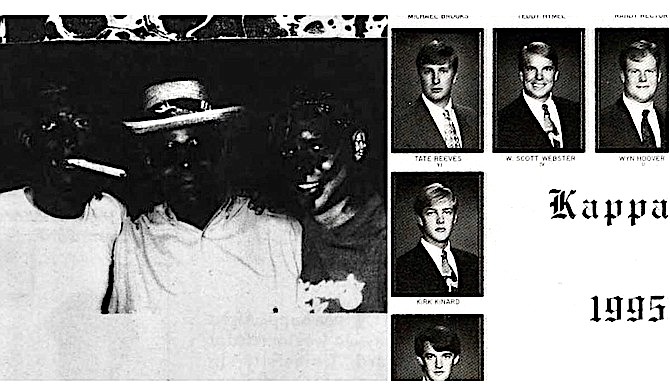 Photo from Millsaps College's 1993 through 1996 newspapers and yearbooks, (when Mississippi Governor Tate Reeves was a student there), shows members of his fraternity, Kappa Alpha, dressing in blackface. Photo credit: Purple and White/Bobashela. Photo by Bobashela.
White supremacist miscreants are dangerous because they present themselves as virtuous, upstanding citizens when they are vicious undercover racists with a hate-filled agenda.
The bad news is: Lamar's wickedness has invoked the wrath of God, which is already begun to unleash right around his hometown of Senatobia in Tate County, Mississippi.
Police are unable to pinpoint the motive for a white gunman to randomly go on a killing spree in a small rural white town. What they will soon come to understand is that anti-Semitic, unpatriotic, fake Christian racists have sparked judgement in America.