"Black" Face, White Master: Jewish Manipulation of Dr. Martin Luther King, Jr. led to Destruction of the Civil Rights Movement
The Civil Rights Era (1953-1968) is celebrated as a pivotal catalyst in the "Black" struggle against police brutality, lynchings, and other forms of racism. Although many Israelites were activists in the fight for Israelite ("Black") equality and fair treatment in America, Dr. Martin Luther King, Jr.– as the head of the Southern Christian Leadership Conference (SCLC)–is seen as the face of the Movement.
[Quote on MLK from Lewis, D. L. and Carson, . Clayborne. "Martin Luther King, Jr.." Encyclopedia Britannica, May 11, 2023. https://www.britannica.com/biography/Martin-Luther-King-Jr.(Accessed May 11, 2023).]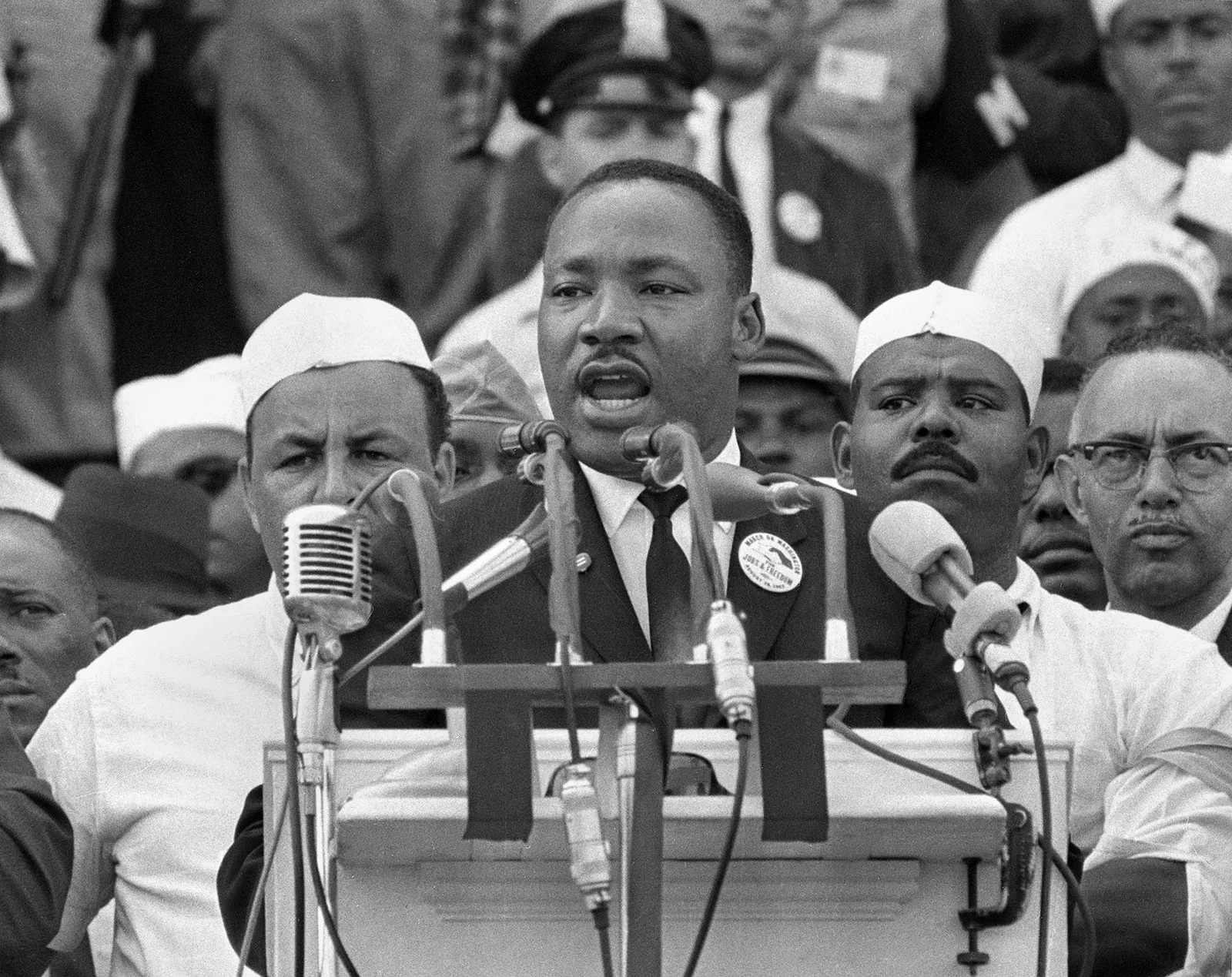 Monetary Bribes and False Philanthropy: Hows Jews Bought and Paid for Continuation of White Supremacy
Because it had a "Black" face, most people are unaware that the Jewish Community funded and controlled the Civil Rights Movement. In partnership with other white supremacists, Jews deceptively used their money and social influence to PREVENT justice and equality for "Blacks". They forced Martin Luther King, Jr. to push Jewish agendas to as well as compel support from the "Black Community" for Jewish causes. And punished him by revoking funding when he disobeyed the White Master or strayed from their approved narrative.
[Quote of The Detroit Jewish News obtained from https://digital.bentley.umich.edu/djnews/djn.1966.07.29.001/5 (Accessed May 11, 2023).]
Jews Immediately Gathered to Capitalize on the Death of Dr. Martin Luther King, Jr.
On the very next day after Martin Luther King, Jr. was "mysteriously" murdered, Jews swiftly convened in Chicago, April 5, 1968 for the Emergency Midwest Conference of the American Jewish Committee. The opportunistic Judaic horde discussed ways to exploit Dr. King's death. As a sick inside joke, the herd stated that within six months, they would spearhead a national effort to "achieve Dr. King's 'dreams'". 
[Quoted from The Detroit Jewish News; p. 27, Friday, April 12, 1968 Issue. https://digital.bentley.umich.edu/djnews/djn.1968.04.12.001/27 (Accessed May 11, 2023).]
Jews Shamelessly Taunt Dr. King Posthumously While Flaunting How He was Taken Advantage of by the Jewish Community
The entire world should question why Jews secretly met to discuss the deaths of the "Black Community's" two most influential leaders of the 20th century.  Jews mockingly called MLK Black Moses indicating their understanding of his potential to free his people, the Israelites. However, the Civil Rights Movement abruptly ended the year of his assassination.
In fact, it was after he mentioned the "Promised Land"– a clear reference to the Biblical Hebrews– in his speech on April 3, 1968 that he was suddenly killed April 4, 1968. And Jews were somehow able to convene a REGIONAL meeting on the matter the very next day, April 5, 1968.
Like "Black" public figures of today, Dr. King was not at liberty to speak his mind, or have his own opinion. While he is no longer here to dream or serve his people and lead them to the Promised Land, Jews were thrilled to announce that they are still dreaming, and still benefiting from his legacy. 
Video: Dr. King visibly distraught delivering what would be his final speech, April 3, 1968.
Dr. King was aware of the consequences for straying from the scripted narrative of his Jewish handlers. Having made peace with death, he sacrificed himself to sew the seed of Revolution, for a time such as this.
Jewish Organizations Conspired to Ruin "Black" Civil Rights Activists-- NOT to Help Them
When prominent, well-educated Israelites with a true passion to help the people arose, Jews actively worked to wipe them out. One such example is the late educator, the Reverend John F. Hatchett (1923-1992).  
Mr. Hatchett achieved an Ivy League graduate education at a time when "Blacks" were still marching for civil rights. As a scholar and educator with first-hand knowledge, he could easily recognize that Jews were exploiting and mentally poisoning his people– and put his career on the line to speak out against injustice in a paper titled, "The Phenomenon of the Anti-Black Jews and the Black Anglo-Saxon: A Study in Educational Perfidy". 
There was nothing inappropriate about Mr. Hatchett's statement concerning educational disparities–which are still extant to this day! Yet the Jews and their infamous propaganda machine mislabeled him a "Jew-baiter", "black nazi" and an "anti-Semite". 
Having newly attained to a high-level position of influence over Israelites' minds, Jews greatly feared Mr. Hatchett because he had the boldness and intellect to pick up the torch of the two Israelite leaders who had been, in the Jews' own words, "snuffed out".
Jewish Hate Organizations (JHOs), including the notorious Anti-Defamation League (ADL) took immediate action to have Mr. Hatchett fired from New York University (NYU). The Serpent Seed even slandered and assailed him in the U.S. Congress (click here).
Although the University president, students, and the American Civil Liberties Union (ACLU) tried to fight back, the Synagogue of Satan was too powerful to oppose–even back in the 1960s. The Jewish Telegraphic Agency (JTA) archives demonstrate how Jews used false pretenses to deceitfully slander, victimize, and destroy all opposition.
Video: JTA article dated March 1, 1968. "Three Faiths Condemn Anti-semitic Article by Negro as 'black nazism'".
Video: JTA article dated October 2, 1968. "New York Board of Rabbis President Assails NYU President on Hatchett Case".
Video: JTA article dated August 26, 1968. "Nyu Send 'explanation' of Hatchett Appointment to 160,000 Alumni".
Video: JTA article dated October 11, 1968. "Ouster of Hatchett Urged by Jewish Groups in New Controversy'".
Jews Created the Civil Rights Movement Narrative Using Martin Luther King, Jr. as the "Black" Face of White Supremacy
All persons that did not conform to Jewish-led White Supremacy masked as social progress for "Blacks" was either vilified, or altogether excluded from the Civil Rights Narrative–like John F. Hatchett whose legacy has nearly been erased from history.
There was an intricately concerted Jewish effort across educational, political, media, financial, and religious sectors to carefully suffocate the spirit of Revolution.
Even Jewish rabbis held forums on ways to pacify and neutralize "Negro" activists (e.g. Israelites) during the Civil Rights Era because, Israelites had become fed up with Jewish oppression. Out of necessity, Jews resorted to a controlled opposition scheme.
They chose one man to be the well-publicized poster child of Civil Rights using their influence and media ownership: Martin Luther King, Jr. Jews recognized that he was of more value to them dead than alive because, once he was assassinated, they themselves would inherit the rights to his legacy which they could use to script their ideal Narrative.
Thus, Dr. King became the IMAGE of "Negro" pacifism, which is all White Supremacy needs to continue to thrive.
Jews Have ALWAYS Monitored and Controlled ALL Major "Black" Civil Rights and Social Justice Efforts
Had it been possible, Malcom X would have been excluded from history because he refused to be pacified with dirty money and empty promises. 
Video: Malcom X encourages supporters to stop accepting inhumane treatment at the hands of wicked White Supremacy.
He refused to join hand-in-hand with his oppressor because he knew they did not have a common plight, or a common goal. For this reason, he was portrayed as the "Naughty Negro", whereas MLK was portrayed as the "Noble Negro". The former was demonized to discourage Revolution, while the latter was deified to encourage complacency.
And attempts were made to stoke a fire of adversity between brothers (that was recently declared to be fabricated and fraudulent) because, "Negro" (e.g. Israelitish) Unity would have been the end of White Supremacy.
Consequently, Jews strategically infiltrate "Black" initiatives and weaponize funding to perpetually subjugate Israelites to Jews.
Empowerment of God's Children (e.g. Israelites) means destruction of Satan's Children (e.g. Jews). This is why the Synagogue of Satan only permits the existence of bootlicking-black persons and organizations that unofficially support White Supremacy, and comply with the "Negro" pacifism standard established through the manipulation of Dr. King. Israel United In Christ (I.U.I.C.) is a Bible-based organization dedicated to improving the lives of Israelites worldwide. IUIC is a place where men are becoming gods on Earth.
There is only one way for a man to regain his dignity stolen by an oppressor: pry it out of his filthy, wicked, lifeless paws. IUIC will show you how. Contact IUIC today! www.IsraelUnite.org