Little Rock Nine contradicted Critical Race Theory (CRT): Harmful Repercussions of Desegregation
Little Rock Nine were a group of Israelites ("Blacks") who in 1957 volunteered to leave schools of their peers to be integrated with heathen nations ("Whites") at Central High School in Little Rock, Arkansas. Eager for what they perceived as an opportunity to flee oppression and the lowest estate of society, these adolescents ignored the warning signs.
[Quote of Little Rock Nine Member Carlotta Walls LaNier obtained from https://www.nps.gov/people/the-little-rock-nine.htm (Accessed April 1, 2023).]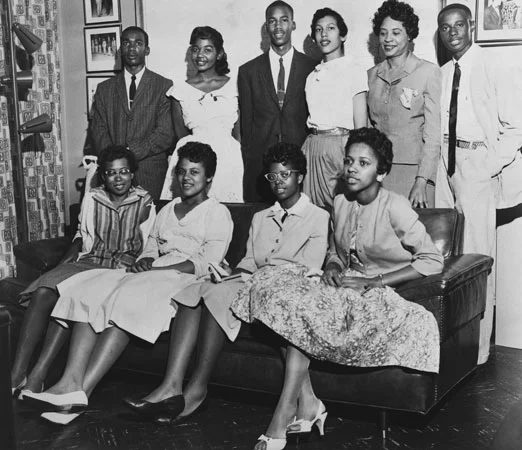 Out of the Frying Pan into the Fire: Leaving Loved Ones to be surrounded by People that Hate you
Little Rock Nine were not welcome at the heathen high-school. These nine Israelites were met with violent protest from the first day of their arrival on September 3, 1957 and were turned away by the Arkansas National Guard whom Arkansas Governor Orval Faubus had called out the night before. They attempted to return nearly three weeks later on Sepetmber 23, 1957 but it resulted in harassment and riots by the heathens. Little Rock police then removed the nine Israelites for their own safety.
[Quote of Little Rock Nine member Minnijean Brown obtained from https://www.nps.gov/people/the-little-rock-nine.htm (Accessed April 1, 2023).]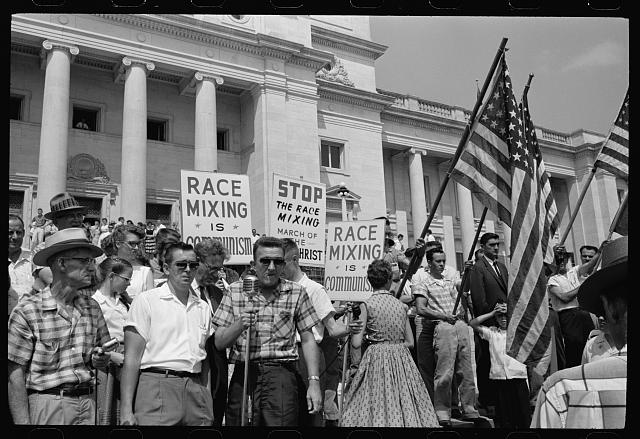 Setup for a Letdown: Israelites could never be Accepted by their Enemies
The Nine could not return until the next day on September 24, 1957, under Executive Order 10730 of U.S. President Dwight D. Eisenhower who dispatched the U.S. Army to force their presence among heathens who garnered even more hatred for them as a result. 
After constantly being the victim of verbal and physical assaults resulting in her suspension, Israelitess Minnijean Brown was expelled in February 1958, when she was hit with a purse full of combination locks to which she responded by calling her assailant "white trash".
While the remaining eight of the Nine did go on to receive their diplomas from the heathen high-school, they did so at the cost of their dignity and sense of self-identity. Unable to participate in extracurricular activities (i.e. sports and clubs), or attend school events (i.e. dances), it could hardly be said that the Little Rock Nine desegregated the school. Instead, during a crucial period of adolescent development, they lost the opportunity to thrive in a healthy social environment with their peers to suffer constant fear, emotional distress, and mental trauma at the hands of their enemies.
Surviving members of Little Rock Nine recount the fear and emotional damage sustained from the forced integration into heathen high-school causing the Little Rock Crisis.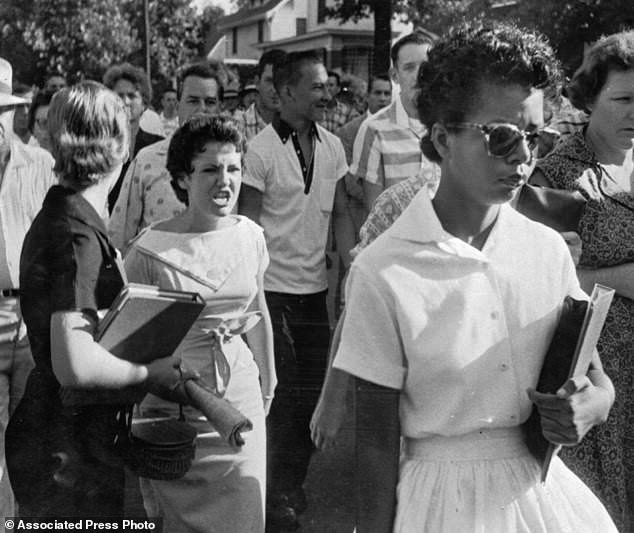 Desegregation was not the Best answer to Racism
After expulsion for name-calling in response to being viciously attacked, Minnijean Brown left home to continue her education. She went to New York where she lived with Israelite psychologists Drs. Kenneth B. and Mamie Clark.
Drs. Clark were skilled professionals well-known for their revelational 1940s experiments using dolls that demonstrated the detrimental effects of heathen culture on the minds of the Israelite. Their work and testimony in U.S. Supreme Court case Brown v. Board of Education (1954) helped lead to school desegregation provided for in the ruling. Unfortunately, not much has changed since the 1940s.
High school student Kiri Davis explores the self-image of Israelite children in the US by repeating the historic "doll test" of Dr. Kenneth Clark that led to school desegregation. The experiment shows how many Israelite children are still trapped by low self-esteem more than half a century later.
[Quote of U.S. Supreme Court Chief Justice Earl Warren delivering the opinion of the court (e.g. official decision/ruling) in Brown v. Board of Education (1954) that resulted in school desegregation and enabled the Little Rock Nine to try to integrate at the heathen high-school.]
Legislation and Politics do NOT make Hatred Go Away but Undercover
Despite decades of fighting for equality with heathen nations in order to assimilate, Israelites are still tormented with the agony of never being good enough in the eyes of a society that was not created for them. And are still being murdered and mistreated at alarming rates higher than every heathen nation in the country. 
Israelites are regularly murdered by cops who tend to escape without real repercussions to prevent future occurrences, which promotes violence against and mistreatment of Israelites
This is enough to prove that hatred of the Israelite has not gone away but has just evolved for modern consumption in a way digestible by a newer generation.
The lasting effects of an intentionally inferior social status cannot be undone by letters on a piece of paper, or by idle words that spill from the lips of politicians who seem to contract amnesia once they enter public office–abandoning every promise they made to get there. Because they also abandon the people whose hearts and minds were molested in their climb to a "higher estate", the Israelite's hope for a better future is dashed following every election. This results in an on-going downward spiral as time and society progresses forward without them.
Civil Rights and Desegregation were Doomed to Fail from the Beginning
Critical Race Theory (CRT) is enshrined in the Constitution. No amount of protesting, social progress–or even legislation— could ever change that.
There is a fine line between acceptance and tolerance. The former would manifest as equal treatment and opportunities absent social, economic, and legal prejudice. The latter manifests as what can be observed in America today: denial in the form of political correctness to comply with legislation.
Little Rock Nine could have remained amongst loved ones for a better chance at being built up instead of insisting upon integration with heathen nations that tore them down. Because the Israelite finds himself more lost now than he was 66 years ago.
Critical Race Theory (CRT) is a Tough (but Necessary) Pill to Swallow
Opposition to Critical Race Theory being taught in schools are correct that CRT is divisive– but only because it is based upon who and how America has always been prior to the social media era that allows everyone to disassociate from reality.
Slavery, segregation, and prejudice account for almost all of America's history. The notion of everyone coming together across racial lines and tearing down all cultural barriers is a more recent concept that has come about over the past 20 years. And has been heavily promoted as realistic via social media to the newer generation consumed with the digital world and detached from reality.
Erasing the Past will NOT Create a Healthy Future
To remove Israelitish history from the equation–stereotyped as "CRT" and "Black History"– would be to erase America's true identity and her legacy. It would breed a society of delusional pretenders who live a lie because they are unable to face the truth. Disassociation from identity is a gateway into the field of Disassociative Identity Disorders (DID) in the realm of mental health disorders.
Florida Governor, Ron DeSantis and many others find truth to be inconvenient and therefore would like to deny its existence which is the onset of Disassociative Identity Disorders (DID)
The Authentic Final Message of the Civil Rights Movement NOT Taught in Schools
Leaders of the Civil Rights Movement believed integration into heathen schools and assimilation into their culture was a practical resolution to the plight of the Israelite in America. They won multiple legal and political battles, but eventually realized that the war against the Israelite is much bigger than any of them had imagined. And they were forced to change their message: the heathen's house is on fire, RUN FOR YOUR LIFE!
Leaving the Burning House and Finding Your Way Home
There is no better place to be than around family that loves, understands, and supports you on your journey to being the best version of yourself possible. 
Israel United In Christ (I.U.I.C.) is a Bible-based organization dedicated to improving the lives of Israelites worldwide. IUIC is a healthy Community for Israelites, by Israelites.
God has promised to heal all your wounds and dry all of your tears if you will let Him. (2 Chronicles 7:14). IUIC will show you how. Contact IUIC today! www.IsraelUnite.org